MJX B20 EIS With 4K 5G WIFI Ajustable Camera Optical Flow Positioning Brushless RC Quadcopter Drone RTF – One Battery
PUOI ACQUISTARLO IN OFFERTA PRE-ORDER PARTENDO DA QUI:
COUPON MJXB20EIS
155.45€
https://www.banggood.com/custlink/GDGhWJH7tU
Drone MJX B20 ELS con videocamera 4K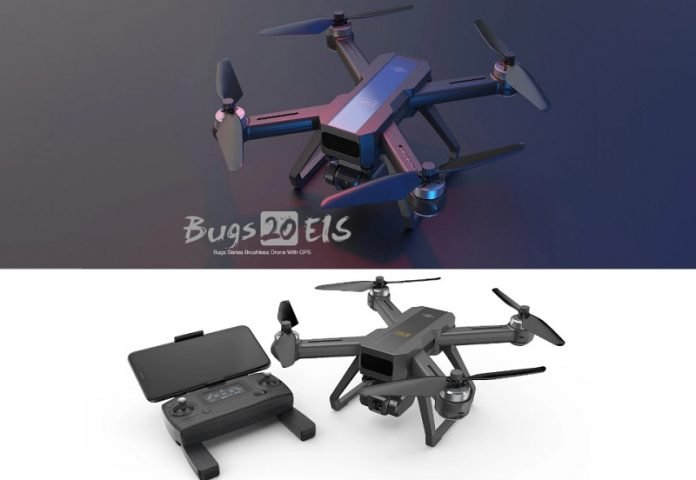 Dopo una lunga assenza, MJX è arrivato con un nuovo modello della serie Bugs chiamato B20 EIS. Come dice il nome del prodotto, la sua videocamera 4K è dotata di stabilizzazione elettronica dell'immagine (EIS). La fotocamera ha un sensore di immagine da 1/3 "e un obiettivo da 2,8 mm. Può richiedere fino a 128 GB di schede micro SD e registrare video 4840 × 2160 a 30 fps o 1080P a 60 fps. Il suo modulo WiFi 5G è in grado di raggiungere i 600 metri con alcuni modelli di smartphone.
Grazie ai potenti motori brushless 1620KV, l'MJX B20 ha una resistenza al vento di livello 4. Secondo le indiscrezioni, la velocità massima di volo è di circa 40 km / he l'altitudine di volo è limitata a 120 metri. Alimentato da un pacco batteria 2s / 3400mAh, ha circa 22 minuti di volo.
Il drone Bugs 20 è dotato di modalità di volo più intelligenti rispetto ai suoi predecessori, ad esempio B2, con l'aggiunta di FOLLOW-ME  oltre ORBIT
Aggiornamento: ho contattato MJJ registrando la possibilità di recensire il loro nuovo drone Bugs 20, spero di ottenere il loro feedback positivo al più presto. A partire da questa settimana puoi (pre) ordinarlo da Banggood per 155,00 EURO , questo prezzo include un telecomando e una batteria di volo.
MJX R / C Bugs 20 caratteristiche e specifiche
Telaio Unibody con elevata altezza da terra;
Sistema di posizionamento GPS;
Sensori di flusso d'aria + barometro della pressione dell'aria;
2204 motori brushless 1620KV tipo e 6A ESC;
Telecamera 4K con sensore 1/3 ″ Cmos, regolazione dell'angolo di inclinazione (da -90 ° a 0 °) ed ESI;
Registrazione video 3840 × 2160 @ 30fps o 1080P @ 60fps;
Trasmissione di immagini in tempo reale WiFI 5G (fino a 450 metri);
Circa 22 minuti di durata della batteria.
MJX B20 EIS With 4K 5G WIFI Ajustable Camera Optical Flow Positioning Brushless RC Quadcopter Drone RTF
Description:
Item Name
Specification
MJX B20 EIS

Brand: MJX

Item Name: B20 ELS

Mode: Mode 2 (Left Hand Mode)

Wheelbase: 280mm

Quadcopter Size: 380*380*125mm

Quadcopter Weight: 543g

Max. Ascent Speed: 3m/s

Max. Descent Speed: 2m/s

Max. Flying Speed: 40km/h

Max Flying Time: 22mins

Max. Limit Height: 120m

Max. Flying Distance: about 600m

Wind resistance level: <4 level

Hovering Accuracy Range:

Vertical ±0.3m,Horizontal ±0.3m (Indoor routine environment, within 3

meters height)

Vertical ±0.3m,Horizontal ±0.5m(Outdoor 3 meters above normal environment)

Motor: 2204 1620KV Brushless Motor

ESC: 6A Brushless

Built-in Positioning Sensor: GPS/Optical Flow/Barometer

EIRP: 20dbm

Remote Controller

Operating Frequency: 2.4G

Maximum Remote Control Distance: 600m

Transmitter Battery: 1.5V 2 X AA(Not Included)

Using Time: About 12h

4K HD Camera

Item Name: 4K 5G Wifi Camera

Maximum Transmission Frame Rate: 720P@30FPS

Video Transmission System: 5G WiFi(802.11.ac)

Image Transmission Range: 450m

Lens Angle: 130°

Aperture: f/2.0

Focal Length: 2.8mm

Sensor: 1/3 inch  CMOS

Local Video Frame Rate: 3840×2160@30fps 1080P@60fps

File system: FAT32

Shutter speed: 1/30s-1/10000s

ISO range:100 – 3200 for Video/Photo

Camera Adjustable Angle: 0° to -90°

Max Photo Resolution: 3840*2160

Max Video Resolution: 3840*2160

Supported SD Cards: Micro SD Card Class 10 And Above (Not included)

Battery

Item Name: 7.6V 3400mAh Lipo Battery

Capacity: 3400mAh

Voltage: 7.6V

Battery Weight: 152g

Operating temperature:5℃ to 40℃

Flying Time: About 22mins

Charging Time: About 5h

Input: 5V/2-2.1A

Charging Type: Type-c Charging Cable

Weight & Dimensions

Product weight: 543g

Package Size: 29*27.5*13.5cm

Package Weight:

One Battery Version: 1250g

Two Batteries Version: 1401g

Three Batteries Version:1552g
Features:
– Electronic Image Stabilization:
EIS is a highly effective method of compensating for hand jitter manifests itself in distracting video
shake during playback.
Camera angle can be controlled to pitch from -90°to 0°
– 4K Camera:
4K Camera records more details
-Optical Flow Positioning:
The built-in optical flow sensor that gets the real-time optical flow information and makes
integrating computations.
-Follow me:
The drone's camera will lock on your mobile phone, when using this function, the drone will track you
automatically and capture your movement with paticular aerial view.
Functions: 
Up/down, Forward/backward, Turn left/right, Sideward flight, Optical Flow Positioning, , One key return, Follow me
Package Included:
1 X RC Quadcopter
1 X Transmitter
1 X 7.6V 3400mAh Battery(the battery quantity can be chosen)
1 X Charger
1 X USB Cable
4 X Propeller
1 X Screwdriver
1 X Manual